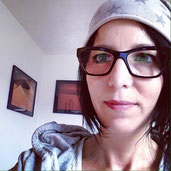 Monday morning. Office hours. Different notes scribbled on different sizes of papers, scattered chaotically all over my desk, directing me to the things that needed to be done. 'Quickly,' screamed the little perfectionist in me, 'Quickly, do it all NOW'.
My mind felt kind of frantic this morning. There were...
... emails waiting to be written, invoices to be paid, calls to be made, content to be created and added to my just recently moved website, sessions for the Blissful Women´s Circle to be prepared (this is pure fun, by the way!), articles to be created, ... and not to forget this week´s appointments noted in my calendar, household chores, energized doggies eager for a walk, the kids ´schedule... and my own running and Yoga self care plan not to be forgotten. Phew.
And wait, before I forget, there is another life transition and major change for my family and me on the horizon this year which means that there are extra special to do-lists to be written and new plans to be made that join all the other busy thoughts in my mind. Can you tell that I have a lot going on?
Feeling rushed, a little overwhelmed, my heart pounding in my chest, driven by the sheer determination to get it all done. That´s how I felt this Monday morning when I was sitting at my desk wearing my reading glasses. Then a What´s App message came in. A friend texted me, wishing me a good start into this new week and asking if it was also snowing at my side of the hill (she lives in the neighboring village).
When I looked up to check what was going on outside of my window (any snowflakes dancing in the air?) still wearing my reading glasses, I noticed that I couldn´t see any snowflakes at all, since I wasn´t able to see anything except what was right in front of my nose. Yes, that´s what reading glasses are there for. To see better what is near. So, no, it didn´t snow.
Then it hit me. When I wear my reading glasses, I only see clearly what´s right in front of me. I am not able to see the mess around and all the other things that need to be done. I am not able to see the stacks of papers waiting to be organized, the boy's cleared out toys waiting to be sold or given away, the laundry to be folded, the floors to be cleaned from the dogs fur balls ... With my reading glasses on my nose, the radius of my eyesight is nicely narrowed and I am forced to focus on what´s right in front of me. In fact, I get dizzy when I try to look around wearing my reading glasses.
So, this was my Monday morning insight. I will metaphorically wear my reading glasses all day long, everyday if necessary, only focusing on what´s the very next step or thing to do, and NOT getting all worked up by looking at ALL the things at once.
Category:   daily-life-insights
If you enjoyed this blog post and found it helpful or inspiring, please share it with your friends on social media by clicking on the icons below.

You may subscribe to my free weekly newsletter by clicking here and receive newly written, inspiring blog posts, soul-inspired wisdom, and special offers that are only for my newsletter subscribers...