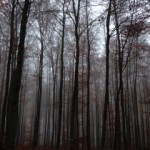 Every year when nature is changing towards the scarcity and loneliness of winter, and the landscape is showing its bone structure, I start looking closer to what's going on around me and inside of me. It seems like my awareness becomes as sharp as nature in the changing season of fall to winter.
On my walks with the dogs...
... I notice a different quiet around me – colored leafs slowly dying, trees looking somehow lost without their clothes, the air being crisp even though the sun is shining. The dead feeling of winter is showing.
What touches me most is the ever changing cycles of nature and death, the tides of ebb and flow, the transience of life. It makes me pause. Fall invites me to take a closer look at what's really important to me in the tides and transience of life.
Intuitively, I see my hands holding a crystal, sparkling and reflecting sun rays, warming my hands and heart. The crystal represents the preciousness in my life that I am holding with care, love, gentleness, gratitude and a deep awareness.
What's the preciousness in my life?
Precious to me are my loved ones – my husband and dear sons, my fur kids. My closest friends. My birth family.
Precious is the time I spend with them. Real quality time when we all leave the busyness and Go -Go- Go -Mode behind us, when we turn out all our electronic devices, when we slip into our own world of being with each other. Away from the buys daily life's schedules. 
Right then a space opens up for us and between us. It is like a special time slot, a space filled with loving energy where we connect on heart level and nurture our souls.
These precious moments include transience. I can't capture them. I wished I could. Just this last weekend I feel that my loved ones and I entered this special space, being with each other on much deeper levels of awareness, opening up in new ways, sharing our fears and sadness, as well as joy, hopes, and dreams. We had a weekend together, just the four of us and our fur kids. We took time to hang out, to chill and talk. No phones. No working from or at home. Just being with each other. 
We went for walks in nature, watched a movie cuddling closely on the couch together, and we were really present with each other. We listened closely to one another sharing thoughts and feelings. It felt like we escaped on an island where time stood still and preciousness sparkled like a crystal in the sun.
This morning, Monday morning, when each of us entered the different routines and schedules of the week again, the fast pulse of daily life started to move through us, I am even more aware of the preciousness in my life: my loved ones.
I am aware that my focus matters. My intention matters. My choices matter. It has an impact on the preciousness of my life.
• What's precious to you? 
• What does this mean for you  in relation to the transience of life?
• What if your heart has a message for you about this preciousness?
Welcome the transience of nature and life itself and become aware of what is really precious to you. Slow down and become still. Be present.
"The center is what holds, feeds, supports, and defines the circle.
What do you put in the center of your circle?"
                                                                    –Reverend Craig Barnes
~~~~~~~~~~~~
Category:  daily-life-insights

If you enjoyed this blog post and found it helpful or inspiring, please share it with your friends on social media by clicking on the icons below.
You may subscribe to my free weekly newsletter by clicking here and receive newly written, inspiring blog posts, soul-inspired wisdom, and special offers that are only for my newsletter subscribers...