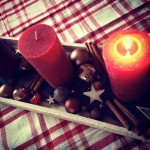 It´s the first Advent Sunday. The first candle is lit, the house smells of gingerbread and is decorated with lovely little Christmas things. 
I am not bound to Christianity, I am not going to church. I find wisdom and truth in various religions and feel most connected to God/ Greatness/ Spirit/ the Universe (whatever name you want to use for that greater power) when I am in nature....
But I do celebrate Advent time and Christmas with my boys. In Christmas time we remind ourselves of the really important things in life, of bringing more light, warmth and love into our lives, of caring for each other, doing good things, being the best selves we can be.
No matter which religion we identify with, it's about how we show up in this world, how we act and respond, how we treat each other, animals, nature and earth.
No matter which holidays you celebrate, today I ask you to bring more light into this world, more tolerance and acceptance, more compassion and empathy, more warmth and love, more tenderness and vulnerability.
Less judgment, less prejudice, less harshness, less anger, less violence, less coldness, ….
So, when you meet with others today, when you talk with friends and family, when you walk by a stranger, remind yourself about how you are showing up and what you want to bring more of into this world.
Let's be love, light and warmth. Let's help make this world a better place.
Share a smile, a hug and encouraging words today!
~~~~~~~~~~~~
Category:   soul-inspired-living
 If you enjoyed this blog post and found it helpful or inspiring, please share it with your friends on social media by clicking on the icons below.
You may subscribe to my free weekly newsletter by clicking here and receive newly written, inspiring blog posts, soul-inspired wisdom, and special offers that are only for my newsletter subscribers...