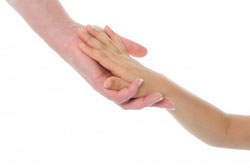 I need to write about my little one. (August 2014)
He has always been my challenge, often left me sitting with questions regarding parenting. He has caused some ambivalent feelings in me - sadness, impatience, frustration, helplessness, worry... and since the first minute of being in this world he has been a special spiritual, so very compassionate and sensitive child. Looking back on 6 years, I now find our relationship changing so very much....
There were many fights, so many downs, so many unhappy moments for both of us. There were my husband and me struggling, reflecting, holding on to our values and thoughts about parenting, sometimes in despair. There was my professional background and my experience that doesn't seem to help me at all.
My son is my teacher. Learning to deal with my own helplessness, worry and fear. Facing my hurt emotions and starting every day anew. Knowing he had a rough start into life and the following years of his young life were influenced by illness and transition. Feeling the distance and space to my son because of all the struggles and still holding on to my strong love for him, holding on to hope and faith, values and structures.
Since this year now things have dramatically changed. There is so much growth.
He started to find more and more peace within and adjusted to the structures we consistently maintained since he was born. He started to respond vs.react, to listen vs.shut down, ...
My little one often seemed to be so far away from me and is now so close by telling me how much he loves me, hugging and kissing me. He even steps in when my husband jokes about me with my older son. My little one is so sensitive and smart - he listens behind spoken words and senses how the other person feels. He is always spot on. Last week when I was sick, he cared for me. He brought me a blanket and some warm tea, and he sat very close at my bedside, not looking away.
How very much I embrace those moments. How very much I love him. How thankful I am for this growth and change. How very often I tell him how proud I am of him. Looking at him and being amazed.
He is one very special boy and I am grateful for being his mommy.
If you enjoyed this blog post and found it helpful or inspiring, please share it with your friends on social media by clicking on the icons below.
You may subscribe to my free weekly newsletter by clicking here and receive newly written, inspiring blog posts, soul-inspired wisdom, and special offers that are only for my newsletter subscribers...